Private Detective Training in Florida, New Jersey, Manhattan, & NYC, NY by Vincent Parco Investigative Group.
Vincent Parco has taught classes at the Learning Annex for 17 years with classes such as:
"How to get anything on anyone"
"How to be your own Private Investigator"
"How to change your identity"
Vincent Parco is in the process of opening a new school in Staten island. Stay tune for the grand opening.
HOW TO GET ANYTHING ON ANYBODY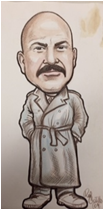 Artist Ralph Castro
TOPICS TO BE COVERED:
Public Records

Board of Elections

Department Of Motor Vehicles

Cars, Boats, Motorcycles

Property – Building Department

Deeds, Mortgages, Tax,
Building Permits, Liens

Parking Violations

Taxi and Limo
Fire Department
Public Assembly Permits
Health Department

Credit Reports – Legally

Data Bases
Interviewing Techniques
Courts

Criminal Records

Order Of Protection

Judgments and Liens,
Surrogate Court
Family Court

Utilities

Telephone
Con Edison
Cable